About
My Goals
This is a great place to give more details about me, as the Webmaster. I could give personal information about my family, my job, my education, and my hobbies and interests. I could also include a list of any of my favorite things.
Michael A. Torres (Son of Oscar Torres)
Hello. My name is Michael Anthony Torres and I am an integral part of Oscar's Pest and Termite Control. I am the son of the Owner, Oscar Torres. I have been with my Dad's company for 5 years and am looking forward to taking over the company when my Dad retires from the business.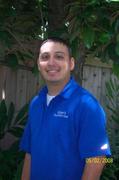 Others
My About page is also a great place to give information about others involved with my site's topic, such as the leaders of my organization, club, or company; an ancestor; my family; and so forth.
My Contact Information
Links to Other Sites